On the one hand, Picfair is a platform for photographers to sell their photos to their license and pricing and on the other hand, it is a huge marketplace for privates or businesses to find photos that best fits their needs. Photographers will set a price for each photo individually and Picfair adds a 20% commission and a small processing fee on top of the price. However, photographers will get 100% of the price they asked for. That business model seems to be very transparent.
Picfair comes along with a free basic version that supports
Images listed on Picfair's global marketplace
Set your own prices
Sell digital downloads
Sell high-quality printed products
Your own Picfair powered store
and a paid premium version called Picfair Plus that additionally supports
Upload unlimited images
Connect domain to your store
Choose from multiple Store templates
Custom image ordering on Store home page
Albums within Stores
Add your own logo & bio
Full-screen slideshow functionality
Add social media profiles to your store
Remove Picfair branding from your Store
Guaranteed access to Picfair's FTP upload server
Customise watermarks on your store
Enable search on your store
Access to Picfair Plus customer service
Early access to new features
for USD 69.90 per year or USD 6.99 per month.
I am going to explain Picfair Plus's functionalities. The sign-up page looks promising and the process is straight forward. Users will need to specify if they are a photographer, a buyer or eventually both
Once successfully registered, users will find themselves on Your Dashboard landing page.
So, let's start with the first upload. For me, selecting a high-resolution landscape photo seems to work best but in general, any camera, DSLR, smartphone, or Instagram pic is allowed. What should be avoided are personal watermarks and signatures, overlaid text, non-photographic images, and personal selfie shots.
Okay, the upload has finished, so adding a title, description, tags, and most important a sale price.
Back to Your Dashboard page, the uploaded photo is in status: 1 image pending moderation. It will be live within one business day.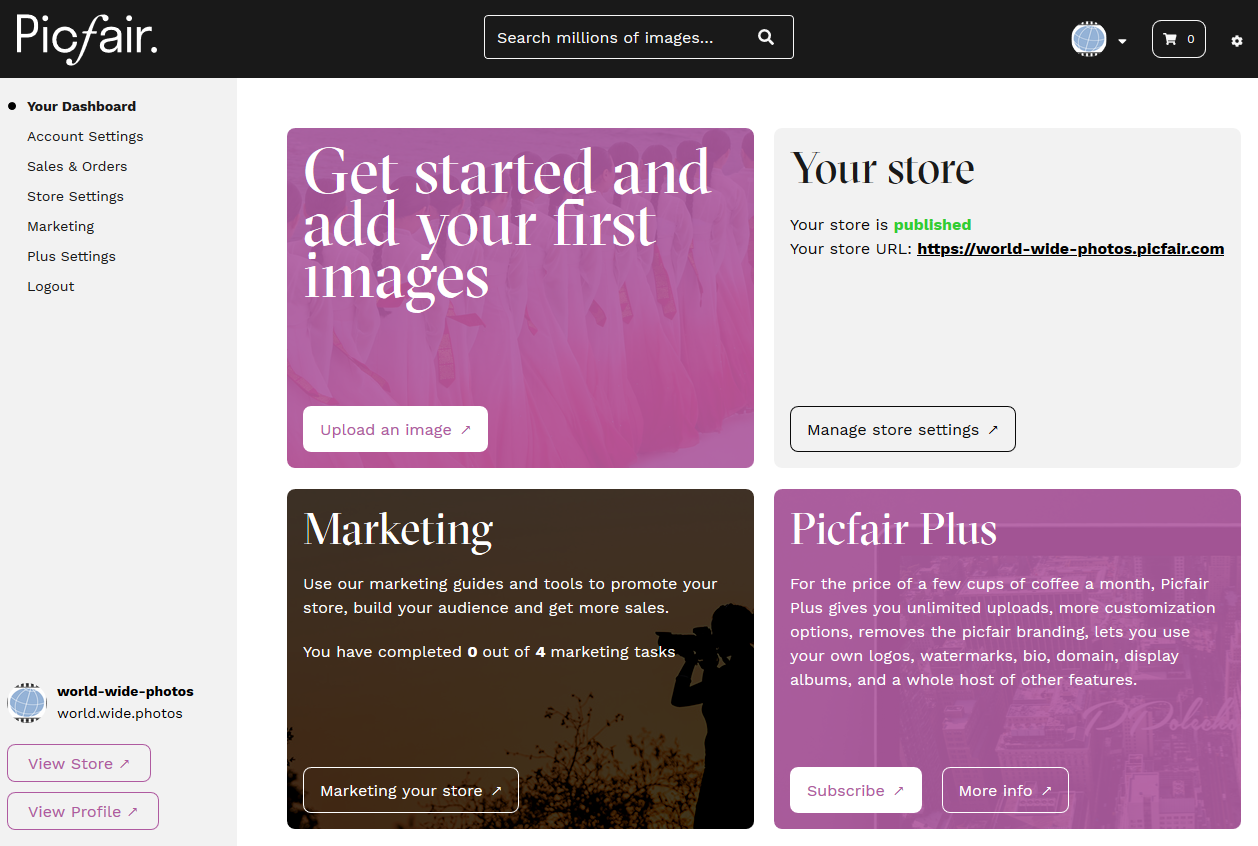 So, while waiting why not explore Picfair Plus functionalities from Your Dashboard? The first upper left box: Get started and add your first images is done! The next upper right box Your store with URL: https://world-wide-photos.picfair.com is published. That is set up, but I want to customise my store under the Manage store settings link. The sub-menus are:
Get started
A quick start to some of the features you can set for your photography store. That is publishing, light or dark theme, enabling search & slideshow, social media image previews, and removing Picfair branding.
Theme & Design
How the store design should look like. Theme: light or dark. Layout: rows, full screen, or square. Splash intro page with branding or blog name.
Header & Navigation
All about adding logo and custom links to the store navigation. Custom logo, store bio, and links.
Content & Organisation
Choose how your images are organised in your store and set your own store homepage.
Domain
Add, review and edit your custom domain settings.
Advanced Settings
Customising how watermarks appear on your store images.
Okay, now continue with Account settings to get everything set up:
Your Account details
This section is used to specify your name, country of residence, username, email address, profile pic, bio, social media & website, default sale price, or preferred currency.
Prints
Picfair offers printed products with all ordering, production and shipping managed by Picfair.
FTP
Please note that access to Picfair's FTP service is currently extremely limited. All FTP requests are subject to a review procedure and access may not always be granted.
Referrals
Refer others to Picfair, and when someone signs up, Picfair will share the commission 50/50 on any images they buy.
Returning to Your Dashboard page, there is a Marketing box on the bottom left corner, that gives you the option to download four marketing guides:
Sell more images by Mastering Social Media
Become an Instagram Expert & Increase Photography Sales
Sell more images with Successful Twitter Marketing
Increase Photography Sales with Smart Facebook Marketing
Don't forget to download the Picfair Plus Guide, which comes with lots of info and is very helpful to set up everything.
The Sales and orders menu item shows your sales activity, order history, and cash out.
But before that, I want to upload some more photos to have a nice store and gallery. Two of these photos even got stars! Picfair reviewers liked them so much that they've awarded them Picfair stars - meaning they are amongst the very best images uploaded to Picfair!
Every uploaded image will also be available to purchase on Picfair's central marketplace.
It was never so fair and easy to sell your photos under your customised conditions. So, what are you waiting for? Sign up right here: