24. 12. 2018 - Day 1: Christmas Eve
then transfer to Reykjavik Bus Terminal with
Flybus
in around 1 hour. In 15 minutes walking to
B47 Hostel
(double room with shared bathroom - 175 EUR for 2 nights).
Because of Christmas Eve, it is not so easy to find a restaurant, finally having a
Chicken Haloumi Pizza
and
Fish & Chips
at
Durum
(together with a Pepsi for almost 50 EUR - including free drinking water). Having a walk back to the accommodation with a short stop at
Hallkrimskirkja
.
25. 12. 2018 - Day 2: Reykjavík
and having breakfast again at Durum with a plate of rumbled eggs, beans, sausages and bread, banana-mango-orange juice and coffee for approximately 30 EUR. Daylight begins to approach. Sunrise at this time of the year is around 11:30 and sunset around 15:30. Another visit to Hallkrimskirkja. Usually, it is possible to climb it up - the view is supposed to be spectacular. However, on 25th there is only a Christmas ceremony and no access to the top.
Walking down the
Skólavörðustígur
with its shops to
Harpa concert hall
and the old harbor. Having coffee at
Cafe Haiti
. Two coffees and two muffins for nearly 20 EUR. From there via Dómkirkja Krists Konungs church towards
Reykjavík City Hall
. With public bus number 14 (3.50 EUR one way) approximately 15 minutes to Hofgarðar station and from there a 20 minutes walk to the
Grotta Lighthouse
. Beautiful views, but the weather starts to become raining and very windy on the walk back to the bus station.
To warm up and get out of the rain going back by bus to
Aurora Reykjavik: The Northern Lights Center
sounds appreciated. Unfortunately, it closes at 16:00 even though announcing to have it open until 21:00. That's Christmas day.
At 17:30 having dinner at
Café Babalú
. A
tomato soup
and
sandwich combo
, a
ham & cheese sandwich
and two
teas
for 30 EUR. The good thing: tea can be refilled as often as wanted. After trying some more different tea flavors, back to the accommodation.
Houses reflecting in Tjörnin Lake next to Reykjavík City Hall
26. 12. 2018 - Day 3: Campervan
because the pick-up for
CampEasy Campervan
is scheduled to arrive at 9:00. So quickly stopping at the supermarket: a
sandwich
and
coffee
for breakfast -
noodle soup, beans from the can, bananas, apples
and some
biscuits
for during the day. Total: 30 EUR.
A little later the friendly guy from
CampEasy
picking up and driving to their head office some 10 minutes outside Reykjavik. After a 45 minutes introduction and paperwork - comprehensively explained by the gentle and helpful staff - leaving Reykjavik behind and heading towards
Akureyri
on the motorway 1 – the
Ring Road
. Amazingly beautiful scenery with cloudy mountains and sea panorama.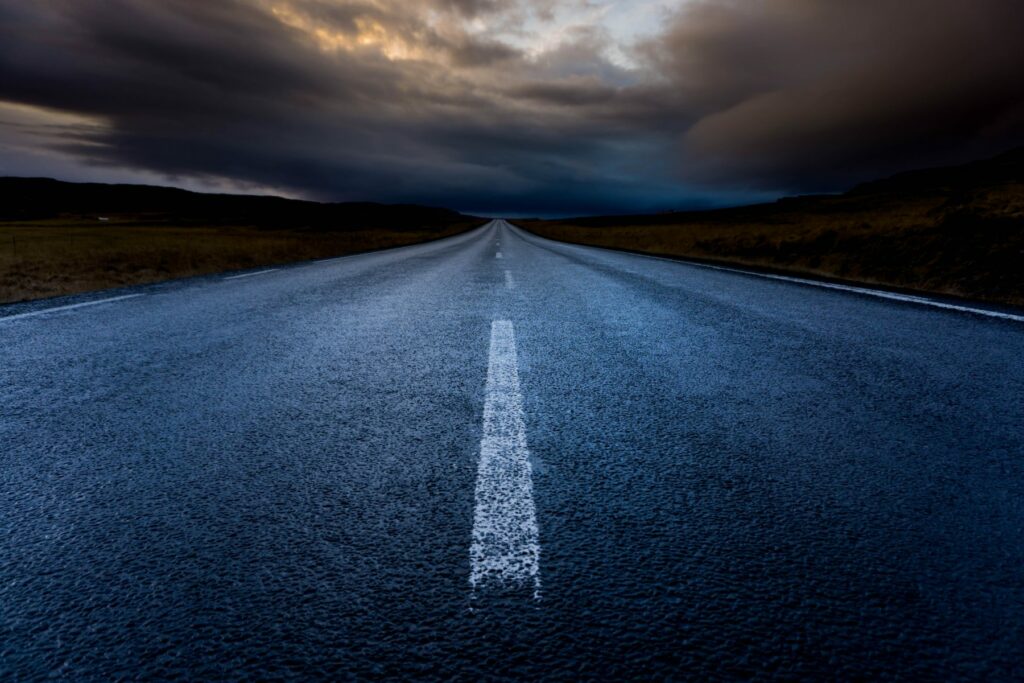 First stop at Hvitserkur, a rock formation close to the coastline. It's a 45 minutes drive on a gravel road after leaving the Ring Road. On the way there, spotting of Icelandic horses (and petting 😊). Having a quick soup cooked on the stove.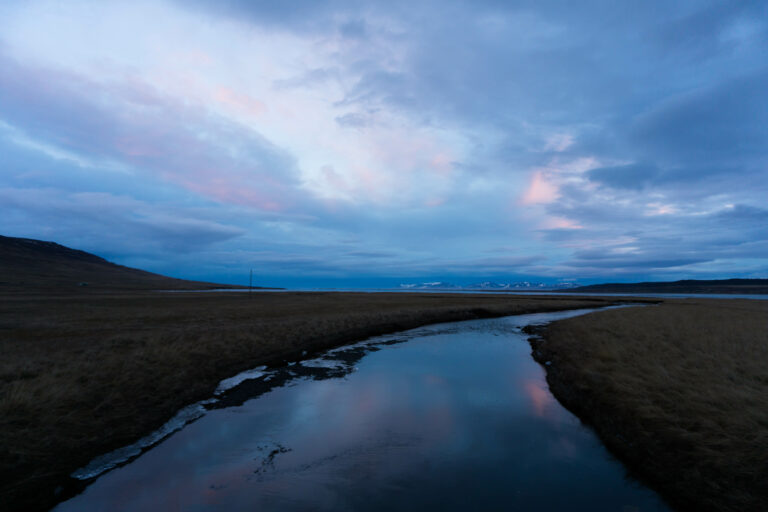 Another 3 hours drive with occasionally heavy rain later arriving at
Hamrar Campsite
. It's a self-service campsite operating in winter. Costs: 3.333 ISK (around 25 EUR for 2 persons, 1 camper). Dinner consists of beans with rice and noodles from the can, which are prepared at the kitchen of the self-service facility. Toilets, warm water, shower, and a heated dining room are offered at the location. Sleeping in the camper for the first time.
27. 12. 2018 - Day 4: Akureyri and the Northwest
super easy to set up the bed functionality from sitting position, that is used when driving and resting during the day. The sleeping space in the
Easy Small Campervan
is quite narrow considering two persons taller than 180cm. Therefore, the bigger campervan would probably fit better. However, it is still fine and the heating is warming properly all night long. On the other hand, to compensate the space, it provides an
active cooling box, sink unit
and a
working surface for eating or cooking on the gas stove.
Power for the cooling box and for heating is provided by two large extra batteries, which are charged during the day's driving.
Overall, the camper comes equipped with really helpful and useful items, such as plates, cuttery, bowls, cups, cooking pot, bed linens, blankets, and tools. Besides that, added extras including a stove and gas, coffee press, additional blankets, towels, inverter for power supply, GPS and WiFi. Outdoor seats, table, and a BBQ grill are probably better used in the summer season.
However, all these items and more services can be easily requested before the trip in the client area of
www.campeasy.com
website, which is super intuitive and user-friendly. For example, simply reserve additional towels, maps, speakers, even a guitar. Or book a return ticket to Keflavik Aiport with Flybus online. Don't forget: The transfer from the airport to CampEasy office is included! 👍
As it turns out to be a very helpful item is the tablet. It functions as a navigation system, WiFi hot spot and information source for road conditions, weather forecasts, camping locations and many more.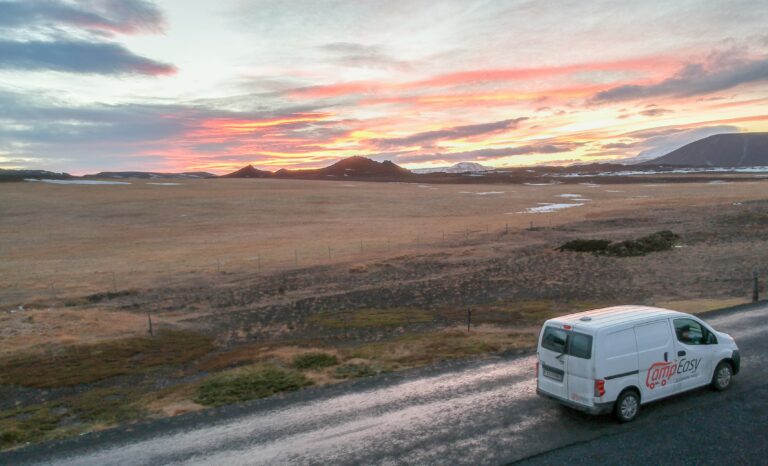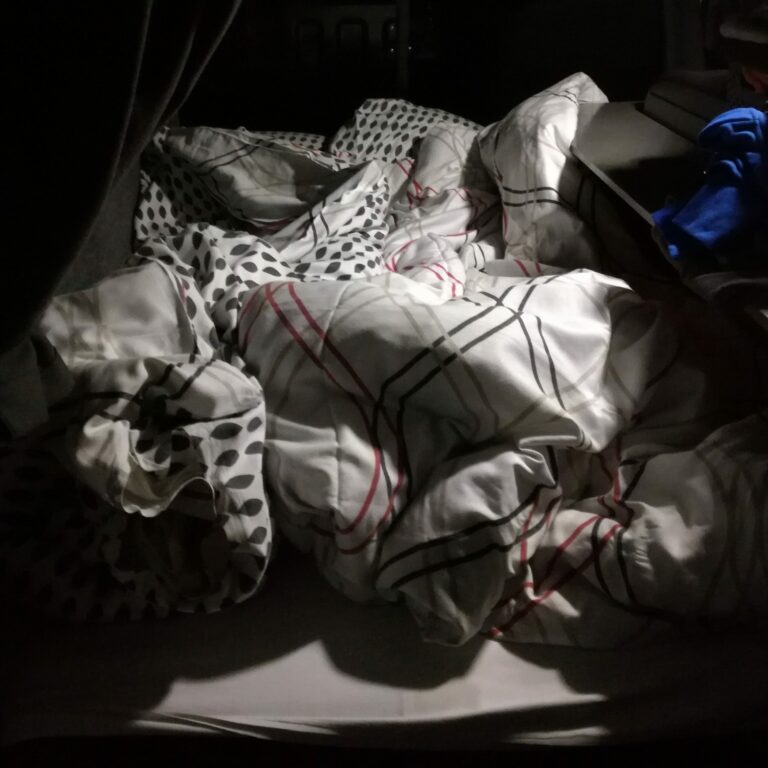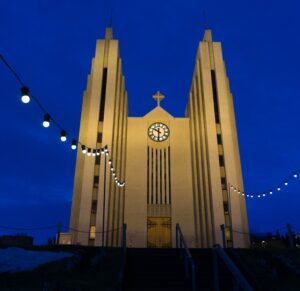 This morning getting up at 9:00 and reverting bed to sitting function. Again easy. From the campsite in a 10 minutes drive to Akureyrakirkja for parking. Walking down to the center and having a coffee, ham & cheese bagel and a croissant at Te&Kaffi inside Penninn Eymundsson for 20 EUR. Checking the shops on the main road and walking back to the seaside. The next stop is Bonus supermarket. 60 EUR for noodle soups, bread, salami, cereals, fruits, biscuits, milk, and some other groceries.
After refueling for 35 EUR going to
Godafoss
waterfall in a 40 minutes drive. Nice, beautiful scenery.
45 minutes later arriving at
Myvatn Nature Baths
. What a relaxing place! Chillin' out in the 38° degrees warm water while having a beer is just beautiful. Especially when it's snowing outside. For 30 EUR entry and 7 EUR a beer switching between
steam bath, hot tub
, and the "
Lagoon"
. At 20:00 checking in at
Vogar Camping Ground
and cooking noodles in the kitchen attached to the dining and bathrooms. Self-service camping for 35 EUR two persons and a camper. Going to bed at 23:00.
28. 12. 2018 - Day 5: Mývatn and the Northeast
with cut apples and bananas in Cheerios and porridge, leaving the campsite at 10:00. Daylight approaching.
Some side stops for
photo- and drone shoots
later, stopping around 12:00 midday at
Namaskard Hot Springs
. This day the weather is clear and the sun is appearing for the first time. The steaming hot springs look stunning in the sunlight.
Then going to
Dettifoss
in approximately 1 hour of driving. Very icy path to reach the panorama platform with a great view of Europe's most powerful waterfall. After 45 minutes, returning to the campervan.
On the way to
Lífsmótun Campsite
located between Reykjahlíð and Akureyri, stopping at the Myvatn viewpoint for having a soup cooked on the stove. Outside very windy and icy. Then continuing to the campsite. Just before arriving, spotting
Aurora Borealis (Northern lights)
for the first time. Amazingly beautiful! The colors are even better visible on photos with long exposure. Awesome!!
Having sausages and pasta cooked in the van as dinner at Lífsmótun Campsite. This is a small campsite managed by a lovely lady from Germany who lives in Iceland for 30 years now. The place has a toilet, warm shower, and washing facilities attached, but no kitchen yet (it is supposed to be opened next season). That's why it is 20 EUR only for two and a van. Then again watching Northern lights and going to bed at 1:00 am.
29. 12. 2018 - Day 6: Western Region
with porridge, Cheerios, apples, and bananas at 9:30, then driving 1.5 hours to Akureyri for refueling (70 EUR), supermarket and souvenirs at Penninn Eymundsson shop.
When buying goods for more than 6.000 ISK (around 42 EUR) then it's easy to claim back taxes (14%). Shops usually provide forms with the paid amount pre-filled. Simply fill in the personal data and stop by at the tax office at Keflavik Airport right before check-in.
At 13:00 starting towards
Thingvellir National Park
with an expected travel time of 6 hours. The weather is cloudy and windy. To use the remaining daylight, stopping several times for
photos
and drone videos on the way. Then the weather suddenly changing to
snowfall
. But no problem for
CampEasy
campervan.
According to and relying on google maps, changing from Ring Road to a sideway for the fastest route. Even though it is announced 25km before, after 1 hour of driving, realizing that the final 30 minutes of the way to the Thingvellir Campsite are impassable. So going back and checking for an alternative. That turns out to be the
Bjarteyjarsandur Campsite
.
Again no other guests. 25 EUR for warm water, a washing room, and no kitchen is slightly more expensive than the day before. Especially, when considering the drunken lady, who opens the washing facilities. Anyway, sleeping in the camper as usual around midnight.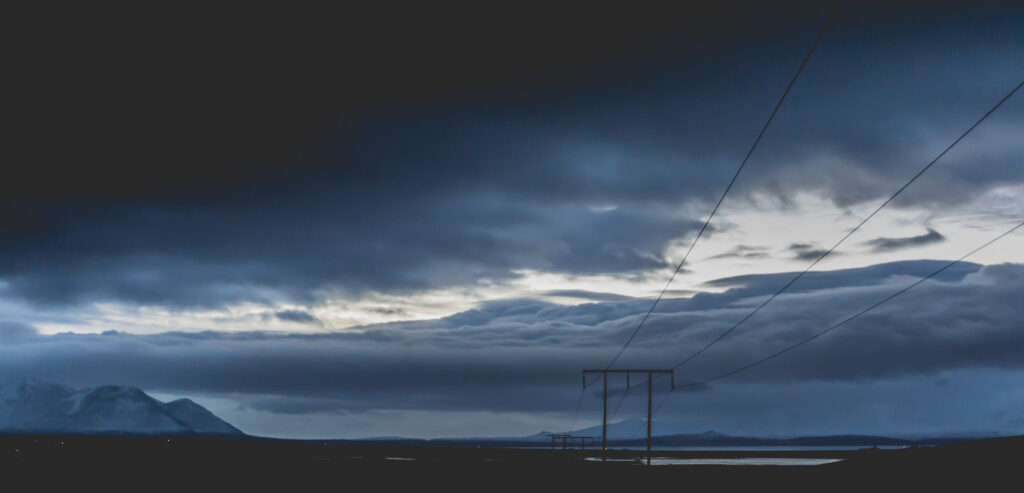 30. 12. 2018 - Day 7: Thingvellir National Park
Öxarárfoss at Thingvellir National Park
full day of raining starts at 10:00 morning. Skipping breakfast and keeping the bed function for the moment. After a 20 minutes drive, stopping at a small parking lot on the south side of Hvalfjordur. Catching up breakfast with every day's apples and banana in a bowl of Cheerios with milk and coffee afterward.
After another 30 minutes of constantly driving in rain, arriving at the visitor center of
Thingvellir National Park
. When entering the parking lot, the campervan's number plate will be recorded and a 7 EUR parking fee (valid full day for all parking lots at the park) is obliged to be paid at one of the self-service terminals inside. From the outer terrace having an overview of the park. Still heavy raining.
So, reducing outside activities and going down by campervan to a closer parking lot. In a 15 minutes walk to
Öxarárfoss
waterfall and
Thingvellir church
. Completely soaked, back to the van.
Approximately 40 minutes drive later arriving at
Hotel Borealis
. What a welcoming place for warming up after a full day of rain! Best timing for a two days stay in a comfortable Hotel. It is almost 300 EUR for two nights double room including breakfast. That cozy room with
private shower,
hot tub
, and
Aurora Borealis wake up service
is worth staying over New Year's Eve. Reserving the New Year's Eve buffet at the restaurant and relaxing in the hot tub.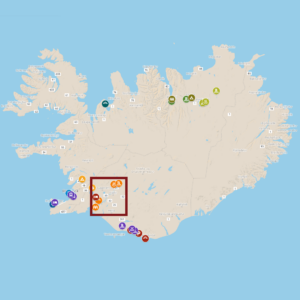 31. 12. 2018 - Day 8: Golden Circle
waking up by the clock alarm at 9:15. The Hotel's breakfast consists of toasted bread with ham and cheese, boiled eggs, meatballs with sausages and orange juice. Finishing up with fruits, little croissants, and coffee, that tastes more like water. However, compared to the usual Cheerios it's more than a welcoming change. Outside heavy wind.
Starting at 10:15 to the famous hot spring Geyser in the geothermal area of Haukadalur Valley. During the 45 minutes drive the campervan stays stable considering the windy and snowy conditions. Stopping for refueling (approximately 55 EUR) and arriving a little later.
It's unpleasantly cold waiting for the Geyser to erupt. Regardless of icy wind and temperatures tons of tourists watching the geysers. The smaller geyser
Strokkur
erupts several times, but the big one seems to be inactive this day. Still amazing.
Then continuing to
Gullfoss
waterfall in a 15 minutes drive. Quickly having coffee and tea brewed on the camping stove. Again windy, but the sun decides to appear for the rest of the day. The amazing scenery with a
rainbow
reflecting in the powerful waterfall is worth the literally thousand tourists. That is, of course, exaggerated but must be even more in summer.
Just before sunset arriving 30 minutes later at
Kerid crater
lake. 3 EUR per person entry fee. Walking around and down the crater, before going back to the Hotel for warming up in the hot tub. Just beautiful.
At 19:30 having New Year's Eve buffet. Nicely arranged. Starting with salmon, herring, red turnips and salads, followed by the main dishes of potato gratin, turkey, lamb, meatballs and vegetables and as dessert two sorts of chocolate cakes. The price of a bit more than 50 EUR per person also includes water and different kind of teas. That is just fair.
Then going to
Selfoss
city for watching the
fireworks
from the back seat of the warmed and cozy campervan with a perfect view on a little hill above the city. Amazing. Before returning to the Hotel at 2:00 am small
photo shooting
with Northern lights background.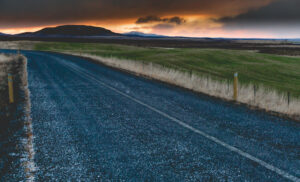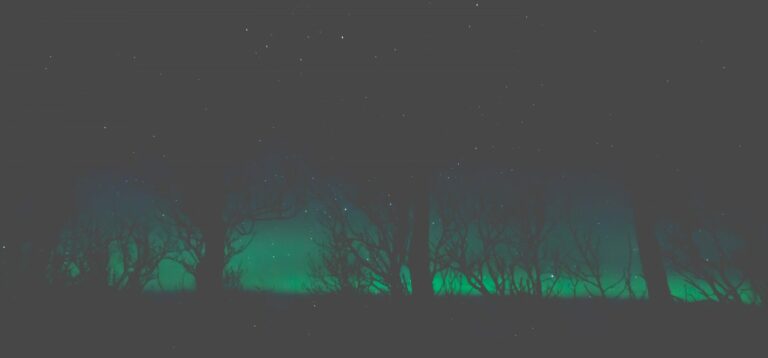 1. 1. 2019 - Day 9: Southern Region
Solheimasandur Plane Wreck
9:15 getting up and having breakfast. After check out going to the
Eyjafjallajökull
viewpoint with some
drone and photo
side stops on the way in a 1.5 hours drive. From there in another 20 minutes drive to
Solheimasandur Plane Wreck
parking. The wreck itself is accessible in about 45 - 60 minutes walk in one direction.
Some more drone shots later, going back the same way to the camper. Before it's getting dark driving to Reynisdrangar viewpoint from Dyrhólaey side. Beautiful black lava sand beaches.
Cooking
couscous with beans
in the camper before going to
Skógar Campsite
in 25 minutes and arriving at 18:00. The campsite itself has only very basic facilities and no kitchen. On the plus side, the responsible lady comes to the camper for collecting the 20 EUR camping fee, which can be immediately paid by card! As it slightly starts to rain finishing this day inside the camper while having
chocolate
and
tea
.
Dyrhólaey black lava sand beach
2. 1. 2019 - Day 10: Southern Region
around 10:00 with the calmful noise of huge
Skogafoss
waterfall in the background. After breakfast quickly going to the base of the waterfall. Amazingly close approaching.
Then driving in 10 minutes to the closest parking possibility to
Seljavallalaug swimming pool
. It is an approximately 30 minutes walk along the river to get to one of the oldest still standing swimming pools in Iceland. This medium-warm water outdoor pool makes it a short stay inside, but it is stunningly beautiful located in nature. Better skip the changing room facilities, which are definitely not inviting.
Then returning back to the camper and starting the approximately 2 hours driving time to
CampEasy
office. On the way stopping at
Seljalandsfoss
waterfall (5 EUR parking fee) and later at a sideroad for cooking the last time. Maccaroni and cheese.
1 hour later arriving at Reykjavik for a final refueling and cleaning. Returning the camper at the office is accordingly to their motto and the complete driving experience:
A free taxi to the Reykjavik Bus Terminal and from there with the public bus number 55 for 15 EUR per person in 1 hour to Keflavik city,
Hotel Berg
. That's a really luxury hotel with a
rooftop pool
and view to the harbor.
Later having dinner just on the other side of the harbor at
Kaffi Duus
restaurant.
Shark
and Brennivin schnapps as a starter, followed by the main dishes
pan-fried fish in coconut crumbs
with garlic-roasted shrimps together with rice and vegetables and the Sailor's plate:
mixed types of seafood
spiced and boiled in white wine, served with mixed vegetables and potatoes topped off with garlic-roasted shrimps and sauce. As the shark is depending on personal taste, the main dishes are extraordinarily delicious! It's just confirming that the Icelandic cuisine's specialty is all about seafood and fish. Together with a dark Tuborg
beer
and a
Pepsi
the 80 EUR in total are definitely worth it. After relaxing in the rooftop pool with 40 degrees Celsius going to bed at midnight.
Seljavallalaug swimming pool
3. 1. 2019 - Day 11: Keflavik
costs additionally 14 EUR per person but is optional. So in total, one night with breakfast is around 90 EUR per person. But that pays off because of included free services like:
transfer to the airport
late check out at 13:00 (depending on availability of rooms)
coffee and tea all the time
rooftop pool all day long
After check out having a little walk to Keflavik city center and spending the last cash for some snacks at the Bonus supermarket. Returning to the hotel and spending the time in the nice lobby and at the pool until airport shuttle pick-up at 18:00.
At the airport tax refund office, requesting for claiming back taxes, which will be transferred to the declared credit card. Flying out of Keflavik airport at 20:00.