Get Ready To ExploreMount Everest Base Camp
If you ever wanted to see the top of the worldwithout being an expert mountaineer, you can not get closer to that then hiking to the Mount Everest Basecamp!On the exhausting way, you will be rewarded by the beautiful landscape, amazing Himalaya panorama and the Sherpa culture of local people. If you take your time, you probably can handle the altitude:Slowly is the key
Transport
Domestic flights and trekking
Costs
Per person, eight-hundred-fifty USD
Season
May, two-thousand-eighteen
Most exciting is, when finally reaching the Mount Everest Base Camp - the effort is worth it!
EBC - Everest Base Camp
Namche Bazaar as the gateway to the high Himalaya. It is definitely worth to spend at least a day for acclimatization
Namche Bazaar
Don't miss Kathmandu, capital of Nepal. Take a walk at Thamel district, the inner city center
City of Kathmandu
On the way to Namche Bazaar, you can not miss the Hillary suspension bridge
Hillary suspension bridge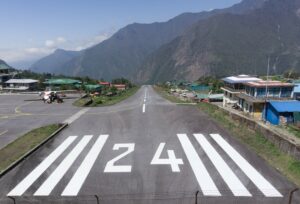 Lukla airport is one of the most extreme airports in the world
Lukla airport
Khumbu Glacier is the world's highest glacier
Khumbu Glacier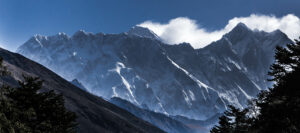 On the way, you probably will spot Mount Everest and Lhotse summit several times
Everest and Lhotse summit
What to expect
With an average to good fitness level as a minimum, you're good to go! However, you need to be aware of expecting approximately 6-8 hours hiking per day, but there are no climbing, snowshoeing or rope skills needed. People of completely different fitness levels and ages are hiking up. Still, you need to check your health and be aware of altitude sickness signs. But if going up slowly and take acclimatization rests, it will be an extremely valuable experience. Usually, there are two main periods for traveling. September/October and March/April/May. In the autumn months, it is rather dry but cold, while as in spring it is typically warmer. But the raining season is approaching with the beginning of June that can result in cloudy conditions and limited views. In May it is mostly dry, but cloudy by the end of the days. Since this route from Lukla to Everest Base Camp (EBC) is getting more and more popular, the amount of travelers is increasing from year to year. To avoid overcrowded paths, villages and accommodations better come sooner than later or try to avoid peak seasons!
Usually, when traveling to Lukla as the starting point for trekking to Mount Everest Base Camp, it is worth to spend a few days in the capital of Nepal, Kathmandu. Visit Thamel, the touristic inner district of Kathmandu with its restaurants, souvenir shops and market places. Don't miss Bhaktapur, a UNESCO World Heritage Site, located about 15km east of Kathmandu. And Boudhanath Stupa, one of the largest unique structures stupas in the world, located about 11km northeast from the city center. Kathmandu Durbar Square is another UNESCO World Heritage Site. Finally enjoy the view from Swayambhunath, also known as the Monkey Temple.
recommended stay | type: airbnb
Such a lovely host and the food is delicious! The main road with taxi and bus availabilities is a 5 minutes walk away. The location on the eastern side of Kathmandu is close to the airport and to Bhaktapur.
view location
Thamel district
recommended activity | type: sightseeing
Take a walk through the central district of Kathmandu and find delicious food, original souvenirs and clothes or equipment for your hiking at the local markets.
view location
recommended activity | type: sightseeing
Bhaktapur is a nice half- or full-day activity to get out of the rush of Kathmandu city because traffic is forbidden inside the Bhaktapur area. It's easy to get there by bus or taxi. The entrance fee is about 20 USD. Inside you can find good restaurants for lunch or dinner, ateliers and souvenirs or just a coffee at one of the coffee shops.
view location
recommended activity | type: sightseeing
Have a coffee or beer at one of the beautiful rooftop terraces around Boudhanath Stupa and enjoy the view to one of the largest unique structures stupas in the world. If you enter the square from one of the side entrances you can probably avoid the little entrance fee, that is supposed to be used to maintain the place, as they say.
view location
Kathmandu Durbar Square
recommended activity | type: sightseeing
That's a subjective opinion, but Kathmandu Durbar Square as the only activity that could have been skipped easiest. Even though it is a UNESCO World Heritage Site and the inner buildings and temples are beautiful, it's quite some overcrowded and very touristic. The remainings of the Kathmandu earthquake from 2015 and the respective rebuildings are interesting to see, however, it is a personal opinion if the approximately 20 USD are worth it.
view location
Swayambhunath (Monkey Temple)
recommended activity | type: sightseeing
Rather climbing up the Monkey Temple Swayambhunath. Pay attention to the monkeys on the way up as they might be a little intrusive, especially when feeding them. The place is also touristic but the view over Kathmandu city impressive.
view location
recommended eat | type: coffee
Sitting outside and watching the activities on the square in front of the Dattatreya Temple while enjoying a cold drink or coffee at Mayur Restaurant. They have the best Momos in town 🙂
view location
recommended eat | type: food & drinks
If you would like to have a change from the traditional food, enjoy the delicious Spanish dishes at the rooftop terrace of La Casita. Later relax while having a cocktail watching the sunset behind the Stupa of Boudhanath.
view location
Arriving with morning flight in Lukla and immediately starting walking to Phakding. Stay overnight at Phakding.
Lukla is the starting point when arriving per plane or chopper from Kathmandu. Hopefully, you have enjoyed the last days in Kathmandu, because from here on you need to rely on your walking fitness unless you decide to take a chopper or donkey to continue... 🙂
Just joking, the first leg will be an approximately 4 hours trek to Phakding, mostly downhill. Don't miss to watch arriving or departing airplanes at Lukla airport. This is just exciting! But you might find more time to explore Lukla on the way back.
There is not too much to do in Phakding.
Beer Garden Lodge at Phakding
recommended stay | type: Lodge
After the first trekking session, you most likely want to recover and adjust yourself to the altitude. Take your time and relax in the dining room. You will figure out that the nights can become cold and the only heating is the oven in the middle of the dining rooms. That applies, of course, the higher you get on the route. So grab a book or bring card games to socialize with other people. They most likely will have a similar itinerary and you probably will meet them again.
view location
The Nest at Lukla
recommended stay | type: Basic Hotel with private bathroom
Due to bad weather conditions on the way back, spending some days at this place in Lukla while waiting for a returning flight to Kathmandu. Keep in mind, that you plan some spare days in advance because of unreliable flight schedules! However, the rooms have a private bathroom and a shower.
view location
Lukla airport
recommended activity | type: Point of interest
Lukla airport is one of the world's most extreme airports, so only watching airplanes and choppers landing itself is exciting. The flight schedules are very weather dependent and therefore often get canceled or postponed.
view location
Note:
Plan some spare days in case of bad weather conditions as your flight can be delayed or canceled!
Kemgon Gompa Monastery
recommended activity | type: Temple
During that time in May, there is a daily ceremony held by the monks. It's quite an interesting alternation for spending the time besides coffee bars and little walkings through the village. The monks are praying and local people giving gifts to the monastery and its monks. Free tea also for trekkers!
view location
Hillary suspension bridge
recommended activity | type: Point of interest
On the way from Phakding to Namche Bazaar, you will cross the Hillary suspension bridge. It is the highest bridge on the trek. Since trekkers and donkeys need to cross it, there can be a queue, especially in peak season.
view location
Everest Coffee Bar at Lukla
recommended eat | type: coffee
Western-style coffee bar with good coffee, drinks, and food. Free Wifi and power supply if needed.
view location
Hint:
Power supply for charging mobiles, cameras or power banks and Wifi is usually a paid service, that is offered at accommodations. However, some bars and restaurants provide it for free when consuming there.
Cafe Danphe at Lukla
recommended eat | type: coffee
This lodge is also hosting a bakery with fresh cakes and drinks.
view location
Nam­che Ba­zaar
2 days, incl. acclimati­zation
Namche Bazaar is the main trading center and gate to the higher Himalaya region. You can find lots of restaurants, coffee bars, and even Irish pubs. If you need a supermarket, pharmacy, mountaineering equipment or ATM, Namche is the place to get you ready for continuing, since it will be much harder, more expensive or even impossible later on the higher areas. It is recommended to spend another day for acclimatization purposes. Take a half-day hike to the Hotel Everest View, where you can spot the Mount Everest for the first time on clear days.
Hint:
An ATM is only available in Namche Bazaar. In Lukla cash can be withdrawn with credit card from the bank during the working hours.
recommended stay | type: Budget Hotel
Low budget room, but meets the requirements for a two nights stay. Having a warm shower for an extra fee is really feeling valuable. Remember, the higher you come the more expensive everything gets. Internet access and recharging of your mobile or camera are also on an extra. Better have a coffee in one of the bars, most of them having free Wifi and power supply when consuming there.
view location
recommended activity | type: Hiking
"Hotel Everest View has been listed on the Guinness Book of World Records (2004) as the Highest Placed Hotel in the world at 13000ft"as it is stated on their website. On a clear day, you can see the summit of Mount Everest. Unfortunately, due to cloudy weather, not lucky enough that day to spot it. However, have lunch and tea before returning to Namche Bazaar.
view location
Syangboche Airfield
recommended activity | type: Point of interest
In an approximately 30 minutes walk from Namche you can reach the Syangboche Airfield. It is an unpaved airstrip for cargo flights or helicopters and STOL aircrafts making chartered flights from Kathmandu or Lukla. You will pass by when hiking to the Hotel Everest View.
view location
Walk through the Bazaar
recommended activity | type: Sightseeing
Walk through the small streets and see the shops, markets, equipment stores, and groceries. You can find almost everything, just check the shops, they have original products and of course tons of fakes. If you need a pharmacy or sleeping bag, you can find it here.Keep in mind, that the nights in higher regions can get cold and not all accommodations provide additional blankets. If you have finished your shopping tour, have a rest in one of the restaurants, Irish pubs or coffee bars.
view location
recommended eat | type: food
During the trek, you will notice, that it is common to usually eat at the same lodge where you or your guide respectively agency has booked your night stay. In some accommodations, the price for a night is even higher if you eat away. From experience, the menus are typically almost the same at any place - meaning very western style. You can find anything from Pizza and Pasta to Yak-Steak and Burgers. Always a safe option is to stay with rice or noodles. Easy and tasteful. Prices will increase by going uphill.
view location
Teng­boche and Ding­boche
3 days, incl. acclimati­zation
In a one day hike, about 6-8 hours, to Tengboche and on the next day further to Dingboche. Typically starting in the mornings between 8 or 9 am. During that time, in the mornings the wheater is mostly clear, but in the afternoons usually cloudy. So poor, cloudy view when approaching Tengboche, anyways just happy to arrive and recover 😉 The view on the next morning than even more impressive! Having just beautiful panorama all the way to Dingboche. Again, after 7 hours of hiking just feeling happy to arrive at Dingboche and stay for an additional acclimatization day.
Cafe Tengboche Lodge
recommended stay | type: Lodge
Arriving at Tengboche is highly welcomed since the ascent is hard and the air gets thinner. That's an alternating up- and downhill walk. However, if you take your pace and do not hurry, it is doable. Remember, slowly is the keyword! Take your rest whenever needed, there are several resting places for having lunch and tea on the way. Let your guide informing you about upcoming unmanaged parts of the trek and have a break before exhausting ascents. It's a good idea of having power snacks with you. And highly important: drink a lot!
view location
Hint:
It is highly recommended to drink up to 3 - 5 liters a day! Tab water can be cleaned with purification tablets. Bring or buy them in Namche.
Hotel Goodluck at Dingboche
recommended stay | type: Hotel
After another exhausting trekking day, having a rest at the Hotel is really appreciated. The rooms are simple but nice and the dining room is heated. Because of a little headache, the resting is more than welcoming. At this altitude, it is absolutely recommended to spend one more day for acclimatization. Again: drink a lot.
view location
Note:
Pay attention to your health and look out for altitude sickness signs! In that case, do not ascend. Stay at this level and descend if it is not getting better!
Lo­buche, Ever­est Base Camp and Gorak Shep
2 days
Planning to hike to Lobuche for staying overnight on day 7 and finally on day 8 reaching the Everest Base Camp! The trek from Lobuche to the Everest Base Camp and back to Gorak Shep for sleeping (since there are no sleeping possibilities for individuals at the Base Camp!) will be the longest hike about 10 hours. So starting early morning is good advice. But remember, that all the hassle will be worth the effort! The rising mountains above the Khumbu glacier will be your companion all the way to EBC. To be promised:
finally arriving there is literally breathtaking!!
Alpine Home & Restaurant at Lobuche
recommended stay | type: Guesthouse
There are not too many choices at that altitude of nearly 5000m. Again simple, but good enough for sleeping.
view location
Buddha Lodge and Restaurant at Gorak Shep
recommended stay | type: Lodge
The same applies for an altitude of more than 5000m. After 10 hours of walking, exhausted but happy, sleeping is possible almost everywhere 🙂
view location
Mount Everest Base Camp
recommended activity | type: Hiking
First spotting of the Base Camp after one of the curves is just pushing you forwards... What an amazing view, still it is another 30 - 45 minutes walk away. But when arriving there, it is the absolute highlight of the trek! There is a little rock covered by prayer flags and tents appearing in the background - just being at this historical place and having it accomplished - this is just amazing! Congratulations 🙂 Don't forget: going back to Gorak Shep will be an approximately 1.5 - 2 hours way.
view location
Hint:
If you feel confident, hike up early morning from Gorak Shep to Kala Patthar Summit to see the sunrise (about 2 - 3 hours walking).
All the way back from Gorak Shep to Lukla
3 - 4 days
It is not a pleasant stay at these altitudes, so going downwards from Gorak Shep is not a hard decision. On the way back you can stop and sleep at different places, depending on your requirements. Typically trekkers stay one night at Pheriche, continuing the next day to Namche Bazaar and returning to Lukla on the third day. However, due to good walking pace that day, deciding to pass Pheriche and continue to Pangboche for overnight stay. Even though it is continuously downhill, remember the crossing of valleys. So, again there are uphill passages to be managed.
Highland Sherpa Resort at Pangboche
recommended stay | type: Hotel
A nice hotel with a beautiful view of the mountains. Dinner and breakfast taste good! It is definitely less crowded than in other places.
view location
Additional information
Itinerary
2 - 4 days Kathmandu (1400m) Day 1: Flight to Lukla (2840m), hiking 7.6km to Phakding (2625m) Day 2: Phakding to Namche Bazaar (3440m) in 10.4km Day 3: Acclimatization, hiking 1.6km to Hotel Everest View (3880m) Day 4: Namche Bazaar to Tengboche (3860m) in 8.6km Day 5: Tengboche to Dingboche (4410m) in 10.7km Day 6: Acclimatization, hiking 850m to Dingboche View Point (4810m) Day 7: Dingboche to Lobuche (4940m) in 11.4km Day 8: Lobuche to Everest Base Camp (5364m) and return to Gorak Shep (5180m) to stay overnight in 11km Day 9: Gorak Shep to Pangboche (3985m) in 17.6km Day 10: Pangboche to Namche Bazaar (3440m) in 12.1km Day 11: Namche Bazaar to Lukla (2840m) in 18km Day 12: Initially planned to fly back to Kathmandu, postponed due to bad weather situation Day 13: Waiting for better weather conditions, so visiting Lukla monastery, having coffee and burning time 😉 Day 14: Finally flying back to Kathmandu
Costs
Booked the trek in advance for 850 USD per person (total of 2 persons)Included: private guide and porter, permits, accommodations with breakfast for 12 nights, domestic flights Kathmandu - Lukla - KathmanduNot included: international flight, lunch, dinner and private spendings Internet access and power supply is usually not included in low-cost accommodations and comparatively expensive Costs are dependent on personal requirements and standards
Transportation
International flight to Kathmandu airport Domestic flight from Kathmandu airport to Lukla airport in around 40 minutes by chopper or plane.When arriving in the morning at Kathmandu airport, it turned out to fly to Lukla by helicopter - without an extra fee. Simply awesome 🙂 However, bad news on the scheduled return flight from Lukla to Kathmandu! Due to bad weather, the flight has been canceled, resulting in two extra days stuck at Lukla. Finally, our travel guide managed to reserve seats in a helicopter, but on our costs. So, plan some buffer days and consider checking proper insurance! Traffic in Kathmandu is chaotic, but you can go by bus if you know where to go. Timetables are not that reliable and you probably need to ask the driver. The ticket will be paid to the driver or one of his assistants. Buses are often overcrowded. So it can be easier to go by taxi but always agree on a price before the ride. You can usually start negotiating on the half of the initial amount - that applies also for items you want to buy at the local markets or souvenir shops
Food and drinks
"Dal Bhat" is a tasteful traditional dish, eaten by porters and sherpas. It is steamed rice and cooked lentil soup and can be prepared with other grain such as maize, buckwheat, barley or millet Another typical meal is "Momo", a type of south Asian dumpling with Indian spices and herbs Differently prepared rice and noodle dishes can be found in many places The typical drink on the way to EBC is any kind of tea. They are usually heavily sweetened and therefore giving power for hiking Drink enough during your trek!
Do's and Dont's
It is recommended to give an extra tip to the porters at the end of your trek. They are the lowest link in the chain and mostly underpaid for their effort. You probaply can notice them carrying heavy items up the hill. They do a great job! On the way, you will often be passing by prayer mills, keep on the left side and always spin them clockwise Put your shoes off when entering a temple When taking photos of locals or children, ask them if they agree Don't give money to kids, better have a chocolate bar or snack prepared
Safety
In general, the EBC route is frequently visited or even crowded, so the safety feeling is quite high In Kathmandu, surroundings and crowded places better pay more attention to your belongings